Our world seems more fearful and uncertain; greed, conflict and natural disaster continues to destroy lives and uproots communities and the ongoing impact of COVID echos around us all.  Nothing is certain, but Christmas reminds us again of God's faithfulness.
We can easily skip straight to Christmas but Advent is a time to remember the promises of God's word. The promise of a Saviour was made in the Garden of Eden, but it was fulfilled slowly, and Jesus was born into a world which was no less uncertain.  
Waiting in hope is the theme Advent, and this year, perhaps more than ever because of the pandemic, we long for hope in our lives.
As we wait we reflect on the words spoken by prophets and preachers, generations before the Jesus birth. Isaiah "For unto us a Child is born, unto us a Son is given; and the government will be upon His shoulder. And His name will be called Wonderful, Counsellor, Mighty God, Everlasting Father, Prince of Peace.'
The prophecies were fulfilled in the birth of Jesus, Emmanuel, God with us.
Emmanuel God with us, changes how we live in the here and now. Hope challenges us to follow God where He already is at work in the world, not just accepting injustice and wrong but working to reach out to those in need in our own community and around the world.  
Christian hope is always active. Hope in the certainty of God's future calls us to change the world in which we live now, to make it look a bit more like the Kingdom we wait for.
I believe that Habitat's mission gives all of us, whatever our background to be part of the story of hope.
I drove past an estate agent for sale sign a couple of weeks ago. Agricultural land for sale with hope value. I was pretty sure that I knew what it meant, even though I had never seen it before. It's a field on the edge of a small community near where I live. I called the agent and confirmed that right now the fields are zoned only as agricultural land, yet in the future the zoning could change. Hope Value increases the cost of land, you could take a risk and invest in the hope that at some stage in the future you could build homes. It's not certain!
The biblical sense of hope is very different. Hope, in the Bible, exists as a secure assurance, a trust placed in a trustworthy God. God has not failed us in the past, and he will not fail us in the future.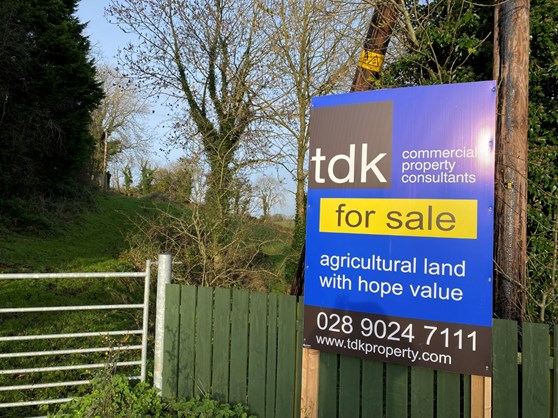 Hope waits and endures. It can withstand fire, trials, and despair. It's the kind of hope that means we can act boldly, confident in being loved by God.
It's hope that means we can be can be resilient in the face of challenge and suffering. We know that the conflict in Ethiopia is affecting millions of people, and give thanks for the resilience of Habitat colleagues who are navigating a way forward and continuing to serve families in need. We know that Habitat in Lebanon, Germany and Malawi continue to respond to disaster and we know that COVID continues to threaten the safety of millions of people; especially those who don't have a safe place to live.
Whatever our challenges, and it has been a tough year for so many people, we can see God at work; in the love of friends and strangers, as we look at the beauty around us, and so often in a very real sense of His presence and peace.
"We do not lose heart. Even though our outer nature is wasting away, our inner nature is being renewed day by day. For this slight momentary affliction is preparing us for an eternal weight of glory beyond all measure, because we look not at what can be seen but at what cannot be seen; for what can be seen is temporary, but what cannot be seen is eternal." 2 Corinthians 4: 16-18
That is the hope-filled invitation Jesus offers to each of us – and it makes all the difference in the world. The best way to wait hopefully is to prepare, in our prayer and our action, certain in the promise of the God who brings light out of darkness and purpose to our waiting.
Prayer
God of Hope; May our lives and actions reflect the light and truth that Jesus was born in a stable and died on a cross. In a world where too many are hungry, where too many wait for a safe place to live, where the gifts of the earth are plundered or locked away by greed and self-interest – may hope and justice be born through us as we build your kingdom on earth. Amen