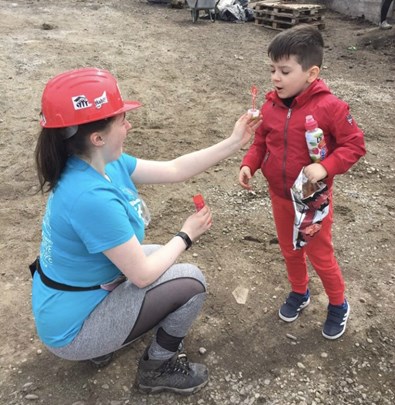 I had the pleasure of travelling with the Easter Youth build team to Moinesti, Romania over a year ago. This was to work alongside four families, helping to build their new Habitat homes. Before we started with our first full day on-site, we had our safety briefing. This was when it really hit us that we would actually be building homes! Over the course of the 5 days, I tried my hand at bending re-bars, mixing cement, digging and (my favourite) drilling! 
We also got to visit the Habitat Romania office and learn a lot about the work they do and where Habitat works all year round on life-changing projects, even when volunteers aren't there. In our spare time we had the opportunity to see some of the country's culture, eat Romanian food and get a glimpse of what life is like for the most vulnerable. 
It was an experience of a life time, one that I will never forget. Our team was excited to be involved and meet the locals and especially the home owners. Meeting the woman whose home we were building was a remarkable and memorable moment. As Maya Angelou once said "I've learned that people will forget what you said, people will forget what you did, but people will never forget how you made them feel'  
 As we journeyed through our week-long trip, we made memories and friends that will last a lifetime.  
It reminds me of that verse in Luke 6:31 "And as you wish that others would do to you, do so to them" 
Heavenly Father we thank you for the privilege to serve, to learn and to work alongside others in your Kingdom Building work. May we this Advent season reflect on the challenge to do onto others as we would wish done to us – may we continue to see people as God sees them and not as the world judges. In your name, Amen.
Read more Advent reflections here.