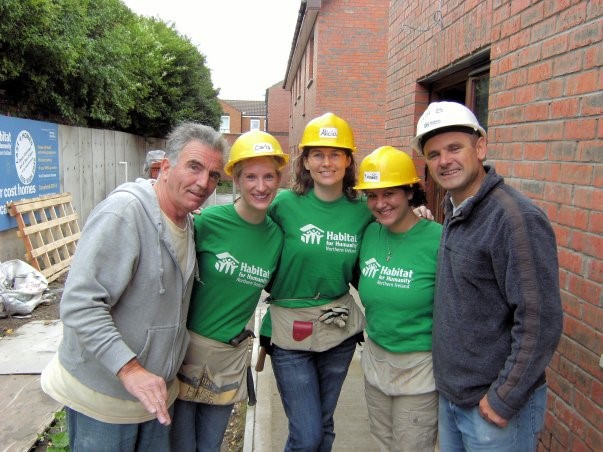 For a child is born to us, a son is given to us. The government will rest on his shoulders. And he will be called: Wonderful Counselor, Mighty God, Everlasting Father, Prince of Peace. His government and its peace will never end. He will rule with fairness and justice from the throne of his ancestor David for all eternity. Isaiah 9:6-7 
A dear friend of mine describes the Kingdom of God as "where what God wants to happen is what happens." I've had the joy of being involved with Habitat in a few capacities over the years, and joy really is the appropriate word, because I've been able to see what God wants to happen actually happen with Habitat's work at every turn.  
God's kingdom is evident when families are able to secure affordable housing. God's kingdom is visible when young people from different school and church communities release stereotypes and befriend each other as they come together to work for the common good. God's kingdom is manifest when people who have been in difficult circumstances have the opportunity to work and serve, learning new skills, using their gifts, and building healthy relationships. God's kingdom is tangible when home items and materials are given new purpose and made available to those who need them rather than being wasted in a landfill. God's kingdom is so very present when people of all walks of life choose to give their time, talent, and treasure for the sake of others, and when those same people find themselves enriched by their giving. Perfectly imperfect people and plans daily bring outposts of God's kingdom to bear in a world where so much is not right.  
Perhaps particularly this year, we look forward to the day when peace, justice, equity, the holistic well-being of all that is living, and a beloved community--the Kingdom of God--are what happens all of the time. We anticipate Jesus' permanent and perfect rule that sets everything right. But as we wait, we don't wait alone or without power. Jesus, our Emmanuel, promises to be with us always, even now (Matt. 28:20). Perhaps even especially now, when the darkness of days makes us so aware of our need for help for ourselves and for our neighbors. I am grateful for how the Habitat community continually seeks out and embraces opportunities to be a light in the darkness and a reminder of what Jesus values and the kind of world that Jesus ultimately will establish. 
Beautiful Lord, we are desperate to see more of your kingdom in this broken world. Please fill us daily with your heart and your power for the sake of the world you love so much. Help us to respond when you seek to use us to answer our prayers for your kingdom to come and your will to be done on earth as it is in heaven. 
Read more Advent reflections here.