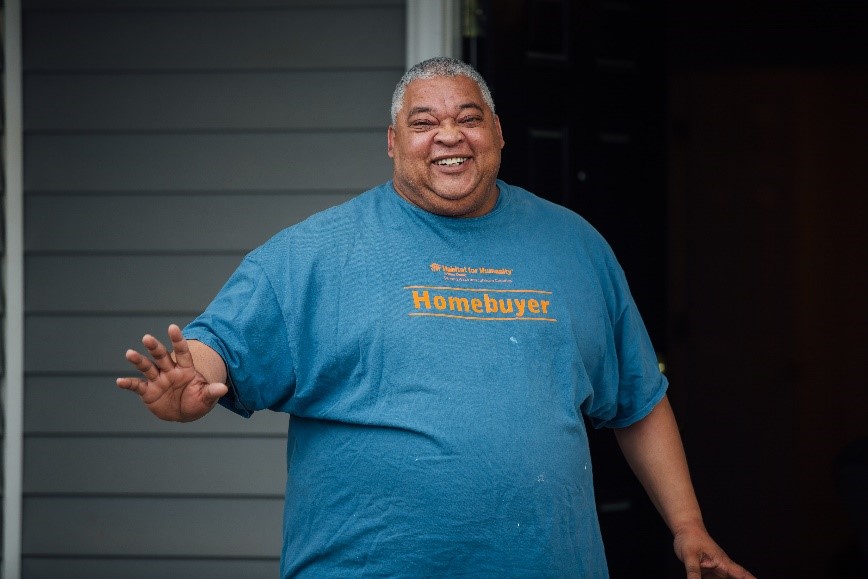 In those days John the Baptist came, preaching in the wilderness of Judea  and saying, "Repent, for the kingdom of heaven has come near." This is he who was spoken of through the prophet Isaiah:
"A voice of one calling in the wilderness,
'Prepare the way for the Lord,
make straight paths for him.'"
— Matthew 3:1-3, New International Version
At our family get-together for Christmas in 2018, my sister gave me a present that brought me to tears.
It was a Crock-Pot.
To anyone else, a kitchen appliance might not seem exciting, but to someone like me, it meant the world. Just days before our Christmas celebration, I moved into my new Habitat home. Before that, I lived in my parents' house with my sister and daughter, paying rent and sleeping on their couch.
My family took me in after years of homelessness, addiction and even incarceration. They spent countless nights feeding me and caring for me while I gave little to nothing in return. But in that Christmas moment, I knew they trusted me and they were proud of how far I'd come.  
My family's gift brought me such joy because it symbolized that I was now fully included in the family as a healthier person. That inclusion is what we celebrate this Advent season. Christ came to save the world and everyone in it. He gives Himself to all of us, regardless of our transgressions.
It is our mission to share Christ's love and inclusiveness with those around us, especially the marginalized. I will never forget a man who reached out to include me. While I was serving time in jail in 2008, Larry Bumgardner, a Habitat volunteer, would come and pick up a group of men, then bring us to a local Habitat build site.
I didn't know at the time that God was preparing my way through those early experiences with Habitat. Through Larry, God brought me out of incarceration — the ultimate exclusion from society — to a place of community and love. I had an opportunity to serve and feel included in something bigger on those Habitat builds.
Christ came so that we could build upon what He has provided for us, and when He does, we need to ask ourselves, "How can I help prepare the way of the Lord?" and "Who can I include in God's love today?"
With a home of my own now and a Crock-Pot to cook in, I'm ready to invite people in and serve the Lord.
Prayer
Great and gracious God, thank You for loving us so much that You gave Your only begotten Son. Thank You for preparing the way for us so that we may better serve You. Dear Father, show us how we can prepare the way for others to improve their lives and the lives of those around them. Guide us to help others find the love of Jesus Christ. Lord, we are ready to serve You and worship You. Amen.
Make a special donation to help families in urgent need of a safe place to call home. Donate here.

Read more Advent reflections here.