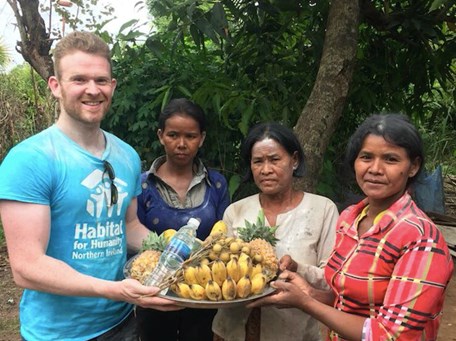 During the season of Advent we are called to spend time preparing for, and reflecting on, the true meaning of Christmas. Despite all the hustle and bustle we must take time. Time for ourselves, time for others and time for God. It is all too easy to get caught up with the superficial and material dimension of Christmas. To do so is to lose the true meaning of the incarnation and to miss the human face of God.

In St. Joseph's Grammar School, Donaghmore we are a community shaped by the lasting Legacy of the Daughters of the Cross, whose ethos was founded on a mission to be a compassionate heartbeat in the world. Through our work with Habitat for Humanity we are reminded of our Christian vocation to be the face, voice and hands of God in a world darkened by inequality and injustice.

As I reflect on the work of Habitat for Humanity and the personal impact our team had in Cambodia, I am reminded of the words of the Angel in Luke 2:10. "Do not be afraid. I am here to announce a great and joyful event that is meant for everyone worldwide: A Saviour has just been born in David's town, a Saviour who is Messiah and Master."

As we prepare for Christmas, we remember Nhoung Loun and her family, who are enjoying their first December in their own safe and secure home. Through our partnership with, the message of the Angel was brought alive in Sras Village, Siem Reap, in the most tangible and human way.

Recognising that the Holy Family sought shelter in Bethlehem, Habitat for Humanity reminds us that many lack shelter in our world. We remember the gift of love given to the world that first Christmas and are reminded that we must continue to give this gift to others.

My experience with Habitat has taught me that the true meaning of Christmas is found in Matthew 25:40, "whatever you did for one of the least of these brothers and sisters of mine, you did for me."

Prayer

Lord, we pray that Habitat for Humanity will continue to be the face of God in the world today. May we work together as a community of faith to ensure that every human being, as a spiritual reflection of our Creator God, is treated with dignity, equality and respect. May God bless the hands of all who work with Habitat and ensure that together we can realise a world where everyone has a decent place to live. Amen.
Make a special Christmas Gift to help families in urgent need of a safe place to call home. Learn more about global volunteering opportunities here.
Read more Advent Reflections here.