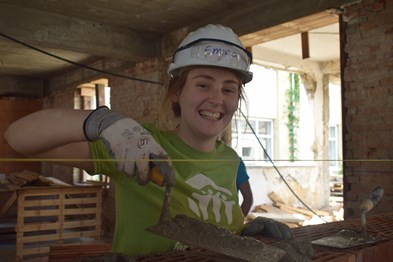 My experience with Habitat's Youth Build over the summer, helping to build workshops and apartments for people with mental, physical and learning disabilities in Romania, is still having a positive impact on my spiritual life even now.
Giving comfort and accommodation to those who are displaced in society and find everyday life a struggle brought to my mind the teachings of Christ,
"I was a stranger and you took me in… Truly I tell you, whatever you did for one of the least of these brothers, you did for me." (Matthew 25:35-45)
Particularly now as we enter the season of Advent, opportunities to help those less fortunate than ourselves are abundant. While for some, Christmas is a period of great hope, joy and excitement, many others face a time of loneliness and hardship.
We are reminded of the very first Christmas when Mary and Joseph, alone in a stable with the new-born baby Jesus, are comforted by the shepherds, who leave their sheep to follow a star, and by the three Wise Men who bring gifts to worship the new King.
The joy we brought to those we helped in Romania was heart-warming, and learning from our experiences with Habitat, we can recreate this warmth within our own families throughout Advent.
Prayer
Lord, let us help to enrich the lives of all those around us this Advent, by brightening the world for those facing darkness and warming the hearts of those who are lonely, so that we can all share in the joy of your coming. Amen.
Make a special Christmas Gift to help families in urgent need of a safe place to call home. Learn more about global volunteering opportunities here.
Read more Advent Reflections here.