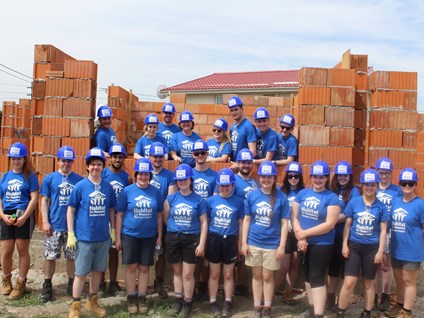 In this world in which we live many of us tend to take what we have for granted, like our food, a clean water supply and our homes. Our home plays a vital part in the running of our lives but think of the many people who do not have a safe home, a place to call their own.
When Jesus was born, He did not have a place to even lay His head. He was wrapped in swaddling clothes and laid in a manger; in an area of poverty, an area of pain and sickness.
"For I know the plans I have for you, declares the Lord, plans to prosper you and not to harm you, plans to give you hope and a future."Jeremiah 29:11
In July 2016, I was involved in a project with Sperrin College in Romania where we helped build the walls of some Habitat houses. These walls will act as a boundary dividing these families from some of the many harmful things in this world.
Through these projects with Habitat for Humanity, more families will have the promise of Christmas; the promise of celebrations and joyful experiences for everyone that dwell within.
For the first time, many of the children will experience Christmas in a safe and loving environment, and they will live out all the traditions which come with Christmas.
These precious homes will be a promise of a new start for these families.
Prayer
A haven for safety and peace in night and day and a place of refreshment, of growth and happiness. May the Lord bless this house and make it a home filled with his love. Amen.
Make a special Christmas gift to help families in urgent need of a safe place to call home. Learn more about global volunteering opportunities here.
Read more Advent Reflections here.