Our team had the privilege of working alongside two families from neighbouring villages in the Salima District. The area has been badly affected by HIV/AIDs resulting in many of the children being orphaned. The team also had the opportunity to visit other projects to see first-hand the impact of support from Northern Ireland.
These hard-working and resourceful families really touched our hearts. Here are some fond memories:
1. Resilience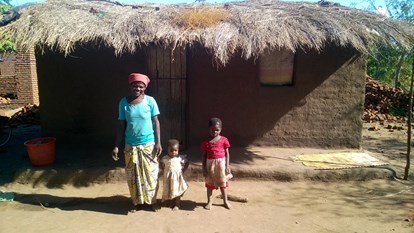 Ketilina (40, right) had to care and provide for her children by herself, since her husband passed away 2 years ago. She felt very vulnerable and constantly worried about her grass thatched roof caving in on top of her two little girls, Rezita (4) & Grades (2). She couldn't believe it when the Chief of the village, told her she was chosen for a Habitat home, it was beyond her wildest dreams. Every day she greeted us with a smile and worked hard carrying cement on her head to the building site to make sure we had enough to lay bricks.
Thanks to her new Habitat home, Ketilina can now spend any income she makes on food for her family, instead of repairing the roof that troubled her so much in the past. "I am so happy, my children now have a bright future ahead of them" said Ketilina.
2. Skills for a brighter future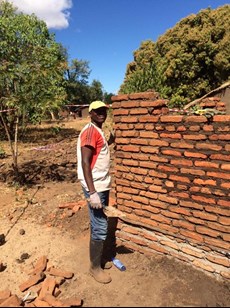 One of the local builders we worked alongside was Joseph (right). He taught us how to build  the 'best walls ever'. He would say 'perfect', after each row of bricks we laid, while tapping and aligning them and giving us pointers on how to make the next row even better.
Joseph had already worked on a number of Habitat homes and he was so thankful for the skills he had learned, as they meant he has a regular income to support his family. He was such a hard worker, he never took a break and always had a smile on his face.
When we told him we would be visiting a few completed Habitat homes, he was very proud to tell us that he had built one of them. He was able to tell us all about the family he had built for. He was so proud to be able to work on another Habitat home and help another family in need.
3. New beginnings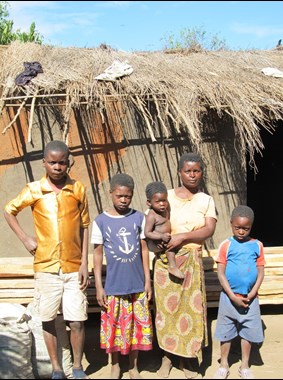 Muzayani (40, right), the mother of one of the families  we were building alongside, kindly invited us into her current  home. It consisted of two small rooms, it had grass thatched  roof, dirt floors and mud walls. The only light coming in was  from the holes in the roof and we could just about all squeeze  in. I couldn't imagine how Muzayani slept there at night  watching over her 4 children, one which is only 1 years old.
 Mud slides were visible on the walls where rain had nearly  succeeded in collapsing the walls in on them. Muzayani  heavily relied on her eldest  son Libmani (16), who was the  man of the house since his father died just before the  youngest child was born. He helped his mum with chores,  fetched water from the well which was a couple of kms away  from their home, and took care of  his siblings as well as  carrying out piece work to provide for the family. He didn't  have time or the clothes to attend school.
 Muzayani said her new home was 'the greatest gift I've ever  received'. She hoped it would improve the family's health and  she would have more money for food and Libmani might be  able to go back to school and get an education. 
4. Play time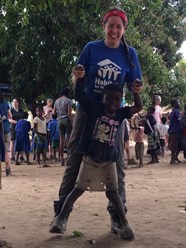 At break time we were surrounded by the happy faces of the local children eager to play with us. We taught each other games and hugged and laughed together.
The children were so resourceful, making footballs and jump ropes out of discarded plastic bags. They found great joy in the simplest of things, they had so little, yet always wanted to share what they did have with us.
They looked out for each other. If one child fell, others would run to comfort them, they were all just one big family. We learned so much from them.
5. How life has changed
We also had the opportunity to visit local families who were already living in their Habitat homes. Jika (18, right) greeted us outside her Habitat home beckoning us inside. She was so proud to show us the home where she cares for her two little sisters Dora & Lucy, they all now feel safe and secure.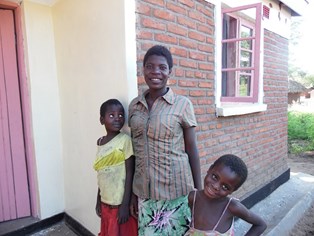 Jika eagerly showed us how she kept her home clean as well as how she covered herself and her sisters at night with their mosquito net to help prevent malaria.  They are now in much better health, as they previously suffered from dry cough and malaria.
Every day on site after visiting Jika's home, her little sister Dora, came to me and pointed over in the direction of her home, so excited, because I had visited her there. Dora has a brighter future ahead of her.
You can help so many other children like Dora, in need of a safe, secure place to call home, simply by making a small monthly donation here. 
For more information on how you can join our Global Village programme, click here.