Building the Kingdom
The powerful, prayerful support of our many church partners has been central to our work since it began in 1993. Habitat is about more than building houses. It is about demonstrating the love of God through practical action. It is our Christian faith that motivates our mission. We are witness to the power and love of Jesus each time we build a house, strengthen a community and make people aware of families in need.
Habitat offers many opportunities to build the Kingdom and express God's love by putting faith in action and helping those in need.
Pray
The powerful prayers of many faithful supporters underpin Habitat's work every day at home and around the world. Prayer keeps faith at the centre of a call to service and justice. Become a Habitat prayer partner and sign up for our regular prayer points here. Download our latest prayer points here.
HOPEBuilder Church
Being a HOPEbuilder is about doing something in our community which will have a life-changing impact somewhere else in the world. By becoming a HOPEbuilder Church and raising funds or giving a gift in support of Habitat Ireland's work, your church will help to provide vulnerable families with the foundation they need to escape the cycle of poverty and build a better future.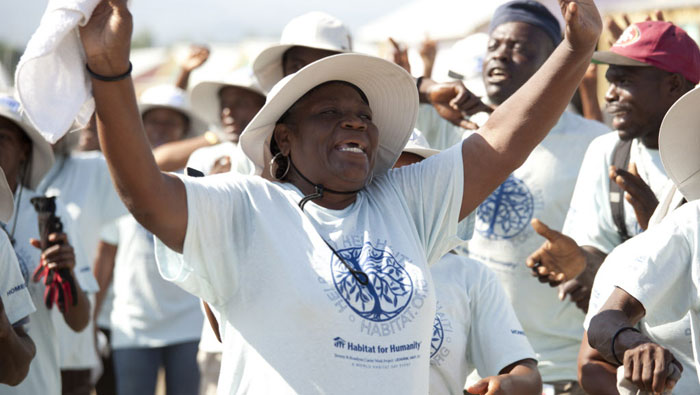 Volunteer
Volunteers play an important role in our vision of a world where everyone has a decent place to live. Our local community building projects and international volunteer programme offers the unique opportunity to work beside families, groups and communities at home and around the world and witness firsthand the transformational work Habitat does every day.
Habitat ReStore, the low-cost DIY store that builds sustainable community directly tackles poverty in Ireland, engages volunteers of all ages and from all backgrounds and increases employment opportunities for many through training and the development of new skills.
These opportunities can be arranged for your church or in partnership with other congregations.
Learn more
Congregations of all sizes can support the work of Habitat Ireland. Contact us for more information on how your church and its members can partner with Habitat. Email: info@habitatireland.org Telephone: +4428 92 635 635 / +353 41 213 9894